CreedAmp Gold [download]
This skin is dedicated to a band i like very much, CREED. They're a rock band from Florida, USA. They made two CD's since 1997 and sold over 15 million copies of them in the USA only. They also released a few singles in Europe, but they didn't have their big break here yet.


You can check out creed.com to get more information about them.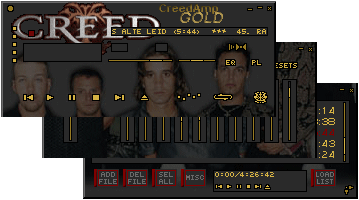 [The Woodshop]
«CreedAmp Gold]
[Iced Blue]
[F1 Racing]
[Lynx Amp F1]
[Lynx Amp]
[Easter Eggstacy]